Villas
Bioclimatic design and construction. Energy efficiency & eco-friendly - Passive Houses
The construction of your dream villa must be made by a trustworthy company employing technically qualified professionals. Regardless of the size of the house, detailed technical knowledge, updated technology, knowledge of new materials and many other features are necessary. You will find all these requirements at Oasis. We build bioclimatic (eco-friendly) homes that not only save you money but also make your home healthier, more comfortable and more durable. The diversity of our buildings bears witness to the company's trustworthiness in terms of quality.
We are certified as Designer, Consultant and Tradesperson by the Passivhaus Institut from Germany.
more details
Pools and Jacuzzis
Durable & innovative construction limited only to your imagination
A swimming pool is an excellent leisure facility with the added benefit of being good for your health. In order for you to get the best out of your pool, the right choice of materials, project and construction team are essential. So why should you choose Oasis? Now into our third decade in the business, we have been manufacturing swimming pools in accordance with the most stringent standards of quality and technology. The hundreds of pools already built throughout the Algarve by Oasis are our best advertisement. You can also rely on us to carry out the necessary studies if you need to renovate your pool, or want to install a heating system or a cover.
more details
Tennis Courts
Multipurpose sports courts with high quality fittings
These days, sport plays an increasingly vital role in the quality of our lives and a game of tennis is an ideal way of keeping your body in good shape. And there's no reason why you should settle for anything but the best. Oasis uses the most up-to-date engineering and building technology to ensure maximum on-court enjoyment, where every racquet stroke is a pleasure.
more details
Testimonials
É com grande satisfação que envio cópia do alvará de utilização que foi levantado ontem, sem mais requesitos.
Aproveito a oportunidade para congratular toda a equipa da OASIS pelo excelente desempenho desta exigente tareta ao longo dos 2 anos de obra.
Nunca terei dificuldade em recomendar a empresa a quem quer que seja.
Luis Leal
Dear Eng Candido Sousa,
I had to call urgently on the services of Oasis two weeks ago when I had a serious problem with the filter of my pool.
Once again the technical service I received was outstanding. Your colleague Joao took care of the matter quickly and efficiently, finding the most cost effective solution.
I am conscious that my pool is already 9 years old, however the after sales service I receive from Oasis is always outstanding, and as if I was a new client.
My thanks again to yourself and to Joao for such professional service from Oasis.
Best regards, Graham Waller
Dear Candido,
Coming back from my last visit this year I would like to thank you and all of your poeople for the very good work again on the bathrooms.
Joao Pedro showed me some pictures and I reliazed how necessary it was to renovate these rooms.
Now the house is really in good shape for the future and we were very happy.
I wish you, your familly and all other members of your company happy christmas and a very good and hopefully busy new year.
Best regards, Michael Bogner
Videos
Brief presentation of the company: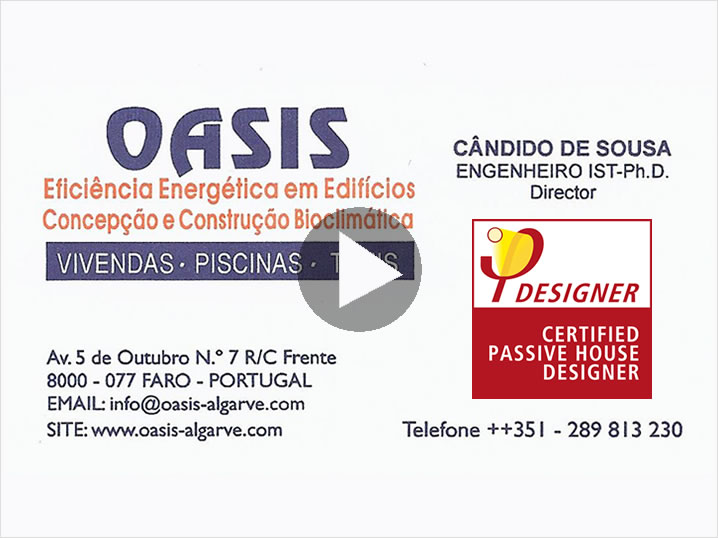 Example of a reconstruction and recovery work in the Algarve (house in the Albufeira area), applying concepts of sustainability and energy efficiency: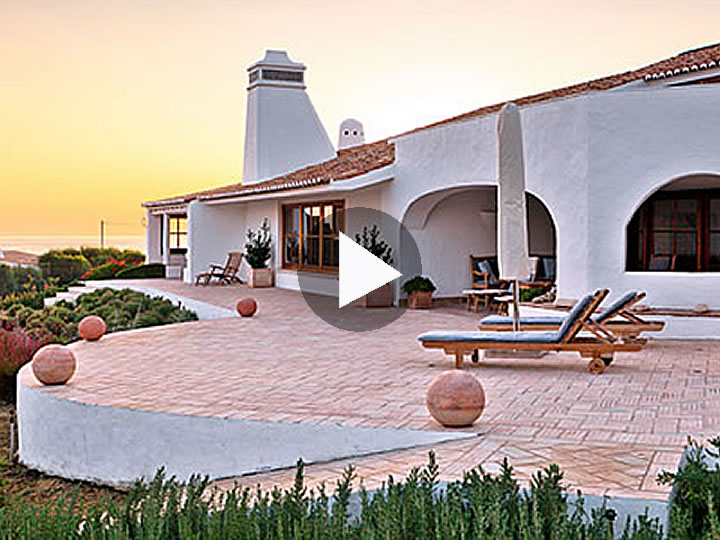 Oasis Clients. Construction in the Algarve
Hundreds of private customers, condominiums and municipal councils in the Algarve since 1986.
Conrad Hotel - Quinta do Lago
Soares da Costa, S.A.
Amadeu Gaudêncio, S.A.
Carlos Eduardo Rodrigues, S.A.
Aldeia do Mar
Vale do Lobo
Quinta do Lago
Longevity Resort - Monchique
Enatur, S.A.
Bovis
Alto Golf Club
Quinta das Salinas
Vila Vita
Mantal, S.A.
Garvetur
Vilamoura Resort
Quinta do Perogil
Dunas Douradas
Universidade do Algarve
Tavira Garden
Vila Sol
Member of the Portuguese Association of Professional Builders of Pools, Sport and Leisure Facilities APP
Passive house designer certified by the Passivhaus Institut from Germany Passive House Institute
The Oasis brand belongs to
Tecnilazer, Projects and Constructions, Ltd.
Builder's License No. 17488 - ICC
ADENE - Agência para a Energia

INETI - Instituto Nacional de Engenharia, Tecnologia e Inovação

Instituto Português da Qualidade

LNEC - Laboratório Nacional de Engenharia Civil
Governo de Portugal - Ministério da Economia

QREN - Quadro de Referência Estratégico Nacional

União Europeia - FEDER

PRIME - Programa de Incentivo à Modernização da Economia

Direcção Geral de Energia e Geologia