Construction and Rehabilitation Company in the Algarve since 1986
Oasis was founded in the Algarve in 1986. Headquartered in Faro, the firm initially concentrated on building swimming pools and tennis courts until, largely due to the technical qualifications of its personnel, it expanded into bioclimatic villa construction. And our villas are far from run-of-the-mill. Now into our third decade in the business here in the Algarve, Oasis is a sure option to bring your project to life.
The firm's founder was Cândido de Sousa, a mechanical engineer with a degree from the Higher Technical Institute in Lisbon (Instituto Superior Técnico – IST). Besides running Oasis, he has been teaching at the University of the Algarve (1987 to 2016) and studied for his European Ph.D. degree at the University of Seville's Higher Technical School of Architecture as well as the IST (Universidade Técnica de Lisboa).
His doctoral thesis, entitled "Eco-Friendly and Structural Integrated Solutions with Fiber Reinforced Sprayed Concrete Building of Highly Energy Efficient Villas and Swimming Pools", also resulted in his being awarded a PhD in civil engineering by the Lisbon Technical University through the IST (Universidade Técnica de Lisboa).
Specialized on Bioclimatic / Efficient Building.
Specialized on Structural / Energetic Swimming-Pool Building Solutions.
We are certified as Designer, Consultant and Tradesperson by the Passivhaus Institut in Germany.
Bioclimatic construction, sustainability and energy efficiency - Passive Houses (PassivHaus)
These days, the words "energy saving" and "sustainability" are on everyone's lips, but Oasis has been developing bioclimatic (eco-friendly) architecture since as long ago as 1992, employing advanced energy management techniques, contributing to the preservation of the planet and proving that innovation and vanguard technology are in the firm's genes.
Experience and professionalism
The Oasis team is highly experienced, the longest-standing members having been with the company since 1986 and the newest since 1997. This reflects the stability of employment and training of all our staff that leads to our work being recognised by our customers.
Focus on quality and effective Assistance
Today, hundreds of swimming pools, tennis courts, multipurpose sports courts and villas bear witness to the firm's competence and standards of quality. An efficient after-sales service has helped ensure that Oasis customers have remained loyal to the firm over the years. And only those who invest in quality as their primary purpose can aspire to high levels of customer loyalty.
Proximity to customers
Proximity to our customers has also contributed to their trust in Oasis. The same team handles every stage of the project, from the initial design to the moment the customer takes possession of the completed work. But there are still other factors that weigh the balance in Oasis' favour: the techniques used, the excellent results achieved, our prices, our adherence to deadlines and our 10 year structural guarantee on our work.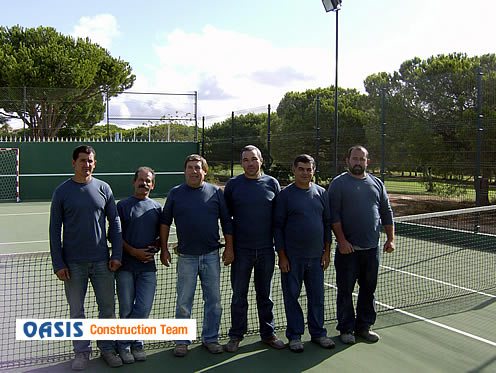 From left to right: Luís Carvalho, Francisco Coelho, Carlos Rosa, Carlos Cardoso, Mamede Calatróia e Nuno Gonçalves